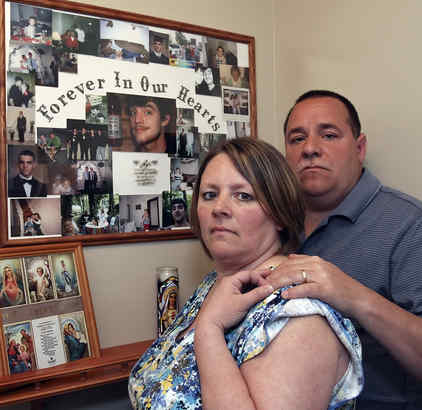 Kathie-Jo Spangler hears everything now. Every broken branch. Every backfiring car. Every footstep.
She hears these sounds now because of the one night she can't forget when she heard nothing.
On Nov. 15, as she and her husband, Gary, slept, Spangler's only child, Kenneth Huckstep, was shot nine times three blocks from their Holmesburg house.
Nine times. The Spanglers can't get that horrific number out of their head.
"There's anger there, there's vengeance," said Gary Spangler. "This guy was out to murder someone, he just murdered the wrong someone."
The Spanglers said Huckstep – who would have turned 23 on Saturday – had no enemies. He graduated from Lincoln High School, worked full time as a foreman at Strauss Engineering in Huntingdon Valley and played in a garage band.
He had no drugs or alcohol in his system when murdered and had no criminal record, said Homicide Detective John Keen.
Now, when Gary and Kathie-Jo Spangler should be thinking about a birthday party for their only child, all they can think about is finding the man who took him away.
Huckstep had been at a friend's house the night of Nov. 14 into the early-morning hours of Nov. 15, practicing with his band, the Dead Birds.
Following the practice, Huckstep and two friends walked home together until their paths diverged at Frankford Avenue and Rhawn Street.
Huckstep made it only a block and half to Craig Street near Decatur before being shot at 1:43 a.m., police said.
The Spanglers said a witness saw Huckstep on his knees before the shooting, handing up his wallet and phone to his assailant. The only description they have of the shooter is that he was a medium-built black man in a black hoodie.
Keen said it's not clear if the gunman was lying in wait for Huckstep. What is known is that the shooter fled the scene in a dark-colored vehicle from the 1990s, possibly a four-door Chevy Corsica, Keen said.
Though Huckstep was robbed of his phone and credit cards, neither was ever used, police said. Huckstep kept his money separately and still had $11 on him when police arrived.
Keen wouldn't speculate about a motive but said that shooting someone nine times isn't consistent with a typical robbery.
"A robbery is usually once or twice and they're gone," he said. "Something like this might mean something."
Keen said that there were "quite a few witnesses" to the shooting and that the residents in the quiet neighborhood have been cooperative. Huckstep died just feet from the front door of an off-duty cop's house.
"The off-duty was the first one on scene. He came running down and said he checked the boy's vitals right away and he was already gone," Gary Spangler said.
The Spanglers want to find their son's killer, not just for their own peace of mind, but to save someone else from going through what they have.  "Somebody that does something like this, it's just a matter of time before they do it again," Gary Spangler said.
Kathie-Jo said her son's life wasn't the only one lost that day.  "All these different thoughts go through my mind," she said. "That he's gone. That I'll never see him get married. That I will never be a grandmom.   "It's like your whole life is snatched away in front of you."  The Citizens Crime Commission is offering a $5,000 reward for information leading to the arrest and conviction of Huckstep's killer.
Anyone with information about the incident is urged to call the commission at 215-546-TIPS or the Homicide Division at 215-686-3334.