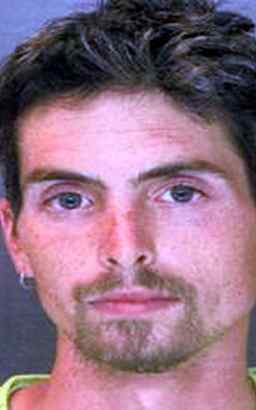 Andrew Richard Meyers[right]
Police say Ambler man was on drugs, driving 63 m.p.h., when he hit a Penllyn 13-year-old.
A 25-year-old Ambler man was arrested Tuesday on charges of striking and killing a Lower Gwynedd Township boy with his vehicle last month while under the influence of a controlled substance.
Andrew Richard Meyers, of the first block of North Main Street, was charged with, among other counts, vehicular homicide in the death of the boy, who was riding home March 17 on a Razor scooter.
The victim, 13-year-old Natan Luehrmann-Cowen of Penllyn, was found at the corner of Brights Lane and Cindy Circle near Meyers' Ford Ranger pickup truck. The boy died of multiple injuries at Abington Memorial Hospital at 8:45 that night.
"Our initial impression," Montgomery County District Attorney Risa Vetri Ferman said Tuesday, "was that this was, very simply, a tragic accident in which a child rode out into the roadway and was struck and killed."
Investigators, using youths the same age as Luehrmann-Cowen riding scooters, reconstructed the accident and found that Meyers was driving at 63 m.p.h. in a 25 m.p.h. zone.
Further, the investigators found, Meyers was so addled by drugs that he steered into the victim in the opposing lane, instead of away from the boy, who had safely crossed Brights Lane, Ferman said.
The district attorney said Meyers told investigators he was a heroin addict who was self-medicating with methadone and clonazepam that he was purchasing on the street.
"He clearly was impaired to the point where he was not able to operate a vehicle safely," Ferman said at an afternoon news briefing.
Blood taken from Meyers at a hospital revealed the presence of clonazepam, methadone, and Delta-9 THC, the active ingredient in marijuana, in his system, Ferman said.
Meyers would not agree to a blood test, so police obtained a search warrant, and blood was taken at 10:17 p.m. at Lansdale Hospital, Ferman said.
Lower Gwynedd Township Police Chief John P. Scholly said the location of the accident is a "winding street with cars parked that wouldn't lend itself to excessive speed."
Luehrmann-Cowen was not far from home when he was struck, the chief said. The boy was dragged 140 feet before the truck stopped.
Ferman described the boy as an "energetic, spunky" young man who would have made his mark in the world. The boy's family declined to comment, saying the matter was now "between the district attorney and the defendant."
Meyers was arraigned before District Court Justice John S. Murray III in Blue Bell on charges of homicide by vehicle, driving under the influence of a controlled substance, speeding, and reckless driving.
Murray ordered Meyers held on $60,000 cash bail at the Montgomery County Correctional Facility. A preliminary hearing was scheduled for April 30.