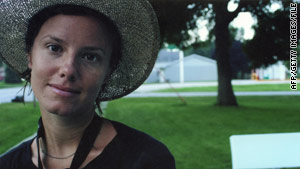 The United States is "deeply concerned" about the well-being of three American hikers who have been detained in Iran for nearly nine months, the White House said Friday, calling on Tehran "to release them immediately."
The statement comes a day after the Swiss ambassador to Iran met with the detainees.
Two of the three hikers are in poor health and have discussed staging a hunger strike, their families said Friday.
"We were deeply alarmed to learn from the families today of (the detainees') physical and emotional state of health," White House Press Secretary Robert Gibbs said in a statement Friday. "We fear their well-being will suffer even more unless their case is resolved without delay. We strongly believe these urgent developments are additional reasons for the government of Iran to release them immediately."
The three hikers — Shane Bauer, 27, Sarah Shourd, 31 and Josh Fattal, 27 –were arrested in July for illegally entering the country from Iraq's Kurdistan region, according to Iran's state-run media .They were sent to Evin prison in Tehran, Iran.
The families say that the three friends, who are all graduates of the University of California and seasoned travelers, accidentally strayed across an unmarked border into Iran while on a hiking trip. Iran has said they will be put on trial.
The three hikers have not been formally charged nor been given access to legal representation, Gibbs said.
Secretary of State Hillary Clinton issued a separate statement Friday expressing concern for the hikers' health and calling for their release. "These three Americans — innocent tourists in Iraq's Kurdistan region when they were detained… have been unjustly held for almost nine months," Clinton said.
The United States has asked the Iranian government to grant visas to the detainees' families to allow them to visit, but the Iranians have declined, State Department spokesman Philip J. Crowley said Friday.
"We continue to call for their release and request the families are granted visas to Iran to visit their children soon," Crowley said. "We are aware of the families' concerns about their children's physical and emotional state of health."
Bauer, the families' statement said, has a stomach ailment and Shourd is suffering from a condition that requires specialist care. She is also grappling with depression.
"We understand that they have spoken about starting a hunger strike because they are in such despair at the total lack of movement in their case," the statement said. "We are painfully aware of the tensions between the governments of the United States and Iran, but it is wrong to make innocent citizens pay the price."
The three Americans made a brief phone call home on March 9 and have access to a few letters and messages sent by relatives, friends and supporters, their families said. Other than that, they have had little contact with the outside world.
The two men are being held together while Shourd is alone in a cell. They are allowed to meet twice a day for brief periods but are isolated from other prisoners, the families' statement said.
Thursday marked the third Swiss consular visit to the American detainees, Crowley said. The last meeting was on October 29. The United States, which has not had diplomatic relations with Iran since 1979, has relied on Switzerland to appeal directly for the hikers' release.
The Swiss ambassador to Tehran is Livia Leu Agosti, according to Iran's semi-official Fars news agency.