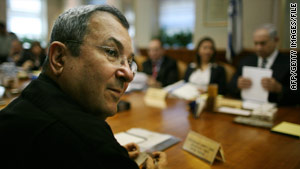 Jerusalem — Israel's defense minister expressed concern Monday about deteriorating relations with the United States and warned that "the growing alienation" with President Obama's administration "is not a good thing for the state of Israel."
Speaking to Israel radio on the commemoration of Memorial Day, Ehud Barak said it was important "to act to change our relations with the United States." Barak is the center-left Labor Party leader who serves in Prime Minister Benjamin Netanyahu's largely right-wing government.
"We are tied with the U.S. in bonds of many years of friendship, of a strategic partnership. From them we get 3 billion dollars every year, from them we get the best planes. They stood by us when [we] needed to fight. …"
He said that Israel has American weapons worth billions of dollars that Israel would use "if, God forbid, a war is forced upon us."
Barak, who was Israel's prime minister from 1999 to 2001, said he did not believe the relationship between Israel and the U.S. would be as strong as it was under previous American administrations, but he stressed the need to "change it from the essence."
To that end, Barak said it was important to "renew an Israeli political initiative which is not afraid of dealing with all the core issues." The core issues refer to the major obstacles in reaching a peace agreement with the Palestinians; they include the status of Jerusalem, the return of Palestinian refugees, and borders for a future Palestinian state.
Relations between Netanyahu's government and the Obama administration soured in recent months because of Israel's continued housing construction in East Jerusalem.
Israel seized East Jerusalem from Jordan after the Six Day War in 1967 and considers it part of its sovereign capitol — a claim not recognized by the international community. Palestinians want East Jerusalem as the future capital of their state.
Barak said the Israeli government had been more active in seeking peace than the Palestinians and argued that Netanyahu had made difficult decisions. He cited Netanyahu's acceptance of a two-state solution and the enactment of a 10-month West Bank settlement freeze.
Speaking to the American network ABC on Monday, Netanyahu attempted to paper over the differences between the two countries. He described the relationship as "rock solid" despite some "outstanding issues … we are trying to resolve."
As for reports that the Obama administration might try to impose some sort of peace plan on the Israelis and Palestinians, Netanyahu said, "I don't believe anyone will seriously think you can impose peace. Peace has to come from the parties sitting down with each other and resolving their differences."
Israel has been pushing for the immediate resumption of peace talks, while the Palestinians have resisted, citing Israel's lack of seriousness about ending construction in East Jerusalem and the West Bank.
Meanwhile, Barak warned that Israel could not continue its military occupation of the Palestinian territories and that it was in the country's interest to end it.
"The world is not willing to accept, and we will not change it, in 2010, the expectation of dozens of years more that Israel controls another nation. … The state of Israel will not be any less powerful but, rather,