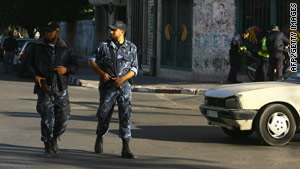 Hamas police patrol the streets of Gaza City on Thursday.
Gaza City — The ruling Hamas government in Gaza said it executed two Palestinian men Thursday for collaborating with Israel.
"This morning the government carried out death sentences against collaborators Mohamed Ibrahim Ismail, a resident of Rafah, and Nasser Salama Abu Freih of Jabalya on charges of spying for the Zionist occupation and causing the death of many fighters and injuring several others during years of work with the occupation," Hamas said in a statement.
The Gaza-based Mezan Center for Human Rights said the two were killed by a firing squad.
They are believed to be the first judicial executions in Gaza since 2005 when Fatah dominated the Palestinian Authority. But Hamas has been accused of extrajudicial activity over the years, such as killing and wounding political opponents or alleged collaborators.
Hamas Interior Minister Fathi Hammad indicated in a radio interview last month that execution of prisoners found guilty of collaborating with Israel would commence soon.
A Mezan Center researcher said that as of March 2009 there were some 17 prisoners in Hamas custody who had been sentenced to death.
Hamas seized power from the Palestinian Authority in Gaza in 2007. While courts in the coastal strip have sentenced prisoners to the death for collaboration and murder, no sentences have been carried out.
In a report released last month, human rights group Amnesty International's Middle East program director Malcolm Smart said legal proceedings that led to death sentences "failed to meet international fair trial standards" and made any resulting executions "especially abhorrent."
Dr. Hassan al-Ouri, a legal adviser to Palestinian Authority President Mahmoud Abbas, called the executions illegitimate, citing Palestinian laws that require death sentences to be ratified by the president.
Al-Ouri said that while serving as president, Abbas had not given his approval for any executions, instead changing court sentences to life or less than life.