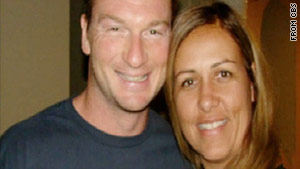 Monica Beresford-Redman's mother flew to Cancun, Mexico, Tuesday on a mission to retrieve her daughter's body.
Cancun, Mexcio — Monica Beresford-Redman's mother met with a prosecutor in Cancun, Mexico, for several hours Tuesday night concerning her daughter's death at a resort two weeks ago.
Quintana Roo state Attorney General Francisco Alor was still waiting Wednesday on forensic test results before deciding if reality TV producer Bruce Beresford-Redman, the dead woman's husband, would be allowed to leave Mexico.
Beresford-Redman was detained as a suspect soon after his wife's body was found in a sewer near their Cancun hotel room, but he was released a day later while police gathered more evidence. The initial investigation suggested Monica Beresford-Redman "died of strangulation, because of the bruising," regional police spokesman Adrian Cardena said.
Ely Burgos flew to Cancun Tuesday on a mission to retrieve her daughter's body and to provide information to investigators. Burgos gave them copies of e-mails exchanged between Bruce and Monica Beresford-Redman in the weeks before their Cancun trip — a trip that was an effort to save their troubled marriage, relatives said.
The couple and their children were staying at Cancun's Moon Palace resort when the husband, a former producer on CBS' "Survivor," reported her missing.
Beresford-Redman built his career as a Hollywood reality television show producer. He worked for several seasons on the popular CBS show "Survivor," in which contestants compete against each other in a variety of extreme outdoor scenarios. He was nominated for three Emmys as a producer on the show but was last credited as a producer in 2004. He also worked on NBC's "The Contender" and "The Restaurant" as well as MTV's "Pimp My Ride," according to entertainment media company IMG.
Monica Beresford-Redman, a native of Brazil, owned a restaurant in Los Angeles, California.