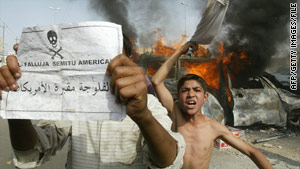 Baghdad, Iraq — An Iraqi who accused sailors of assaulting him while in detention testified Wednesday he was handcuffed, blindfolded and struck, a painful ordeal that ended after he pleaded for the beating to stop.
Ahmed Hashim Abed took the stand at the court-martial for U.S. Navy Petty Officer 1st Class Julio Huertas.
Abed is thought by U.S. authorities to be the mastermind in the slayings and mutilation of four U.S. contractors in Falluja, Iraq, in 2004, one of the war's most notorious crimes against Americans. He has accused Huertas and two other Navy SEALs — Petty Officer 2nd Class Jonathan Keefe and Petty Officer 2nd Class Matthew McCabe — of assaulting him while he was detained.
Abed said he was handcuffed, blindfolded and moved around into different rooms at his detention site. He said he was beaten on his right shoulder and back and fell out of a chair because of the pain.
Abed said he was picked up and then struck in the stomach, causing him to fall on his face. He was kicked on his side and legs and felt a foot on his face. Even though Abed doesn't speak English, he said the man beating him was using bad words.
The beating stopped when Abed begged for it to end, he said.
He said he was put back on the chair and tasted blood from a deep cut inside his mouth. He felt the blood trickle down on his dishdasha, a long garment worn by men, and seep onto his undershirt. He said he received a new dishdasha but not a new undershirt.
He did not identify or name any of his alleged abusers, but said he saw someone wearing a red shirt when his blindfold was up. He couldn't say how many people were in the room when he was beaten. He testified that he thought there were two people but he only heard one voice.
Now being held at the U.S. detention facility Camp Cropper, Abed testified he assisted U.S. and Iraqi troops in picking up terrorists.
Abed, who took the stand for about an hour, spoke through an interpreter. He was questioned by the prosecution and defense and was expected to take the stand again during the trial.
Huertas and Keefe both face charges of dereliction of duty, based on the allegation that they failed to safeguard the detainee, according to the military. Huertas is also charged with impeding an investigation by attempting to influence the testimony of another sailor.
The court-martial is expected to wrap up Thursday, when the defense said it will call two more witnesses, according to a U.S. military spokesman. If Huertas is found guilty, sentencing arguments will follow the verdict.
Petty Officer 3rd Class Kevin DeMartino testified Wednesday that the three accused sailors all showed up at the detention facility.
He said McCabe hesitated a little bit before hitting a bound and masked prisoner in the midsection. The man gasped for air and fell to the ground. DeMartino said he then saw Keefe standing over the man with a stick.
"Don't feel bad for this guy. He killed a lot of Americans," Keefe said, according to DeMartino.  DeMartino said blood was dripping down the detainee's dishdasha.  He said Huertas approached him, asking, "Did you get your story straight?"   "What am I supposed to say? He's got blood all over him," DeMartino said.  Last January, a military judge ruled that the trials of Keefe and Huertas be held on a base in Iraq. McCabe, who is charged with assault, will be tried May 3 in Norfolk, Virginia.
Keefe's court-martial was supposed to have opened on Monday, but it was delayed after defense lawyers were stuck in Europe because of the Icelandic volcano. That court-martial is now expected to begin Friday morning.
Each proceeding is expected to last about three days.
The case against the SEALs has sparked outrage that the sailors are being tried at all for handling a suspect in the contractors' murders. A Facebook page called "Support The Navy SEALs who Captured Ahmed Hashim Abed" has almost 120,000 members.
After the contractors for the security firm Blackwater were killed with hand grenades and rifles, their bodies were set on fire and dragged through the streets. Two of them were hung from a bridge in Falluja, an image that was broadcast around the world.
Four days later, U.S. Marines launched a major offensive inside Falluja, in part to help find the killers.