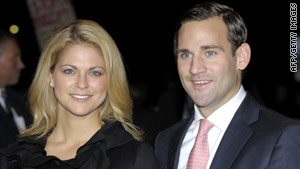 Sweden's Princess Madeleine has called off her planned wedding following press reports her fiance had sex with a college student during their engagement.
No date had been set for the wedding between Madeleine, 27, and 31-year-old lawyer Jonas Bergstrom ahead of the Swedish Royal Court's announcement that the couple had split.
"After having thought it through thoroughly, the Princess Madeleine and Mr. Jonas Bergstrom have made the decision to go their separate ways," the court statement said.
The couple asked for "peace and quiet in this difficult situation. The extreme coverage by the press is not making this situation any easier for them," said the court statement, which was released Saturday.
Princess Madeleine Therese Amelie Josephine is the youngest child of Sweden's King Carl XVI Gustaf and Queen Silvia. Her older sister, Crown Princess Victoria, is due to marry gym owner Daniel Westling in June.