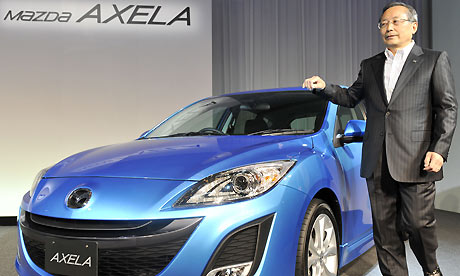 Oil hose fault on Mazda 3 affects around 280,000 cars sold worldwide, but the car company is not planning a UK recall.
Mazda is recalling nearly 90,000 cars in the far east to fix a transmission system fault, the latest in a series of problems to hit the car industry in recent months.
The problem affects the Mazda 3, which is branded as the Axela in Japan. Around 35,000 cars will be recalled in China, and 55,000 in Japan. The fault involves an oil hose which has been positioned too close to the radiator's protective panel, causing it to rub against the panel when the car is driven on a bumpy road. This friction wears down the hose, leading to leaks, and could result in the car refusing to start.
The problem affects around 280,000 cars sold worldwide, including nearly 6,000 Mazda 3 cars sold in the UK. However, the company is not planning a recall in Europe. Instead, drivers can get the problem fixed by going to a dealer or during their next service.
"We have spoken to VOSA [the Vehicle and Operator Services Agency] and they agree that this is not a safety-related issue. So it is being treated as a service rework," said a Mazda UK spokesman. He added that Mazda was aware of one incident where the problem caused a car to break down, in China on 22 January.
Drivers in the US are not thought to be affected as it uses a different engine.
This is Mazda's second product recall this year. In early March it called in 12,300 CX-9 sports utility vehicles after discovering that the car's electrically warmed seat could overheat, potentially leading to a fire.
Car safety is generally a hot issue in the light of the ongoing crisis at Toyota, where problems with accelerators and brakes have led to more than 8m cars being recalled. Yesterday it was forced to halt sales of its latest Lexus SUV in America, the Middle East, and Russia. Today, Toyota said it is testing all its SUV models, following an independent report that the Lexus GX460 was unstable when turning at high speeds.
Nissan is also recalling more than 500,000 vehicles to fix glitches with fuel gauges and brakes, while Honda found a problem with the brakes in hundreds of thousands of its vehicles. And US manufacturer General Motors announced in March that more than 1.3m Chevrolet and Pontiac cars will be recalled to repair a malfunctioning power-steering mechanism.