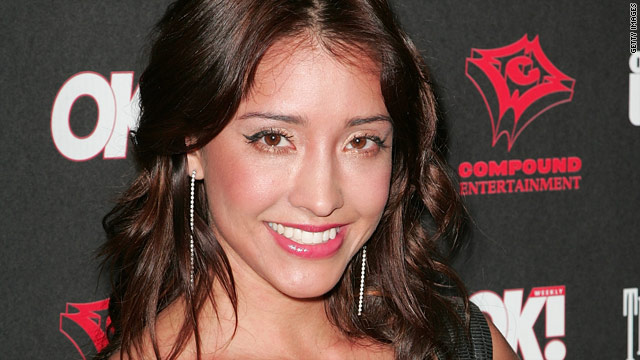 Los Angeles, California (CNN) — A well-known Mexican soap opera star and her American husband face federal charges of entering a sham marriage so she could get legal residency in the United States.
The government said the fake marriage was exposed when a jilted boyfriend, fashion photographer Markus Klinko, called the U.S. Immigration and Customs Enforcement agency.
"This actor should have realized that posing as a bride for immigration purposes could land her a role in a real-life crime drama," Special Agent Miguel Unzueta said.
The 28-year-old Romero appeared in at least 15 television shows and films since 2005, according to the Internet Movie Database, when prosecutors allege she paid Kent Ross, a pizza delivery man and musician, to marry her.
Romero appeared before a U.S. magistrate on Friday and was released on a $50,000 signature bond. She was ordered to surrender her passport and not to leave Southern California. Her activities will be monitored electronically.
The prosecutor in the case, Assistant U.S. Attorney Jim Left, said Romero could get between 15 and 21 months in prison if convicted, though such cases usually produce shorter sentences.
Ross appeared before a U.S. magistrate on Friday and was released on $25,000 bond.
The case is unusual because marriage fraud charges are usually litigated by immigration authorities rather than prosecuted as criminal cases. A federal complaint filed Thursday accused Romero of paying Ross, 28, to "marry" her on June 12, 2005, but alleges they never lived together as a couple. Romero began dating Klinko a month later, and they lived together for several months, the complaint said. After Romero dumped Klinko, the photographer "presented ICE with evidence that Romero was in a sham marriage," the government said.
The complaint names Michael Ball, founder of the Rock & Republic jeans company, as a target of the federal investigation, alleging that he helped arrange the sham marriage while Romero was modeling for his company. The judge barred Ball from helping Romero post bond on Friday. Romero's publicist did not return calls seeking comment Friday.
Her biography posted on her IMDB page listed Klinko as one of several photographers "who noticed her on-camera appeal, opened Fernanda's eyes to acting opportunities in Hollywood." Romero's show business career began in Mexico at age 16 when she joined the ensemble Frizzby, the biography said. The group toured Mexico and Central America, releasing two top 10 singles, it said.  She started hosting television shows and appearing on commercials in Mexico when she was 18, it said.
Romero has appeared in print and TV ad campaigns for Rock and Republic, Clean and Clear, Pepsi, Apple and JC Penney , it said. "She was cast in Telemundo's original production 'Wounded Soul,' where she was not only a lead actress, but also a lead singer, performing two songs in the soap-opera's soundtrack," her biography said.