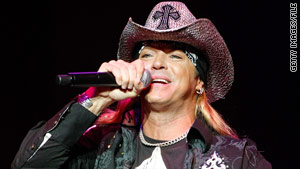 Michaels was hospitalized Friday after suffering a brain hemorrhage, according to his spokeswoman.
(CNN) — Rock singer and reality TV personality Bret Michaels remained in critical condition Sunday in a hospital intensive care unit, his publicist said.
Michaels suffered a massive brain hemorrhage and was hospitalized Friday, spokeswoman Joann Mignano said at the time, confirming a People.com report.
"Everyone at Michaels Entertainment would like to thank all fans and friends for their continued thoughts and prayers through this difficult time," Mignano said in a statement Sunday. "At this point, Bret remains in ICU in critical condition. He is under 24-hour doctors' care and supervision.
"We are hopeful that further tests will locate the source of the bleeding, which still has not been located. As we all know, Bret is a fighter, and we are hopeful that once all is complete, the slurred speech, blurred vision and dizziness, etc., will be eliminated and all functions will return to normal."
More information will be provided as it becomes available, Mignano said. The location of Michaels' hospital was not disclosed.
Michaels, 47, was the lead singer for the '80s glam-metal "hair band" Poison.
He became a reality star by headlining the VH1 show