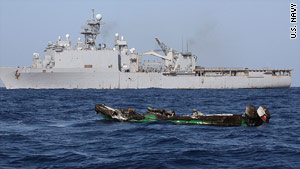 Federal authorities are flying 11 suspected pirates from East Africa to Norfolk, Virginia, to be prosecuted for alleged attacks on U.S. Navy ships near Somalia, according to multiple federal law enforcement sources familiar with the operation.
The accused pirates have been indicted on a series of charges that remain under court seal until the suspects appear before a federal magistrate in Norfolk early Friday, the officials said.
The suspects are expected to arrive in Norfolk late Thursday night and will remain in the custody of federal agents until they are taken into court, the officials said.
"The U.S. Marshals Service will be taking custody of the defendants following their initial appearance in U.S. District Court in Norfolk, and they will be housed locally through the court proceedings," the Marshals Service said in a written statement.
The service refused any other comment on the operation to bring the pirates to U.S. soil.
The FBI and Justice Department had no comment.
The cases will be prosecuted in Norfolk, which is in the Eastern District of Virginia. Officials from Alexandria, Virginia, where the district court is based, were already in Norfolk standing by for the pirates' arrival, officials said.
Federal officials are tentatively planning to hold a news conference Friday in Norfolk following the initial court appearances.
One official, who asked not to be identified because the cases are not yet public, said five of the accused pirates were captured after the USS Nicholas was attacked by a pirate ship on March 31. Six others were captured in a separate incident on April 10 after a pirate ship fired on the USS Ashland, the official said.
The United States, the European Union and others have beefed up their security presence in waters near Somalia after a rash of attacks by pirates in the past two years.